SOUP INGREDIENTS:
4 T. Dutch Farms Butter (salted or no-salt)
3 slices Dutch Farms Premium Bacon, chopped
1 medium onion, chopped
1 large carrot peeled and chopped
2 stalks celery, chopped
4 cloves garlic, finely chopped
4 T. all-purpose flour
5 cups chicken broth
1 (28 ounce) can crushed tomatoes
¼ tsp. dried thyme
2 bay leaves
1 cup heavy cream
Salt and pepper to taste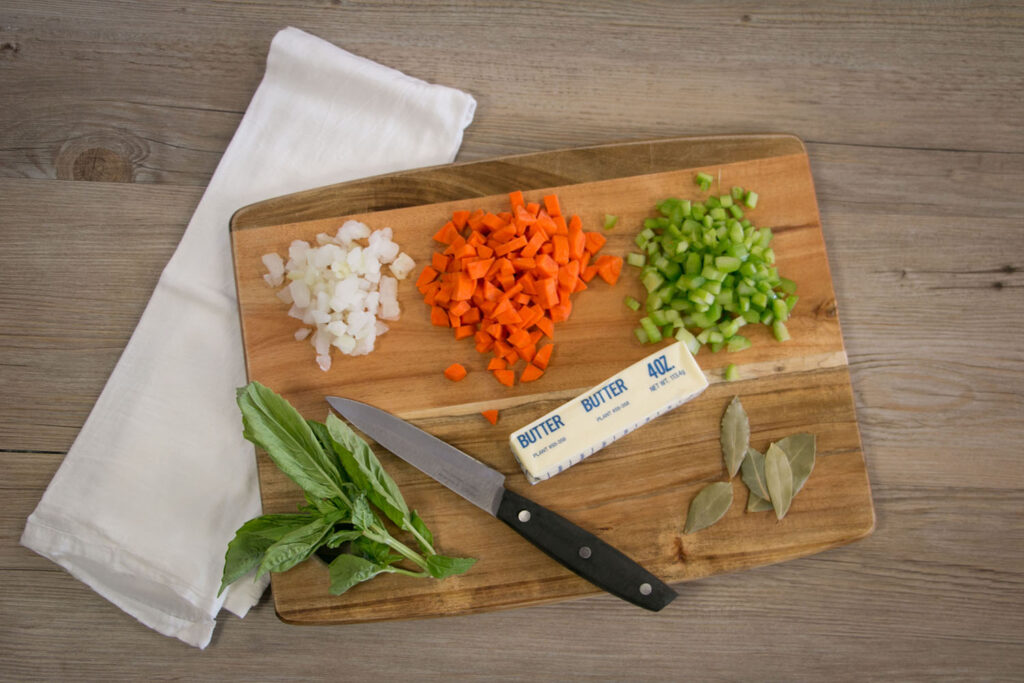 GARNISH:
Fresh basil, finely chopped
Dutch Farms Goat Cheese Crumbles
Dutch Farms Premium Bacon crumbled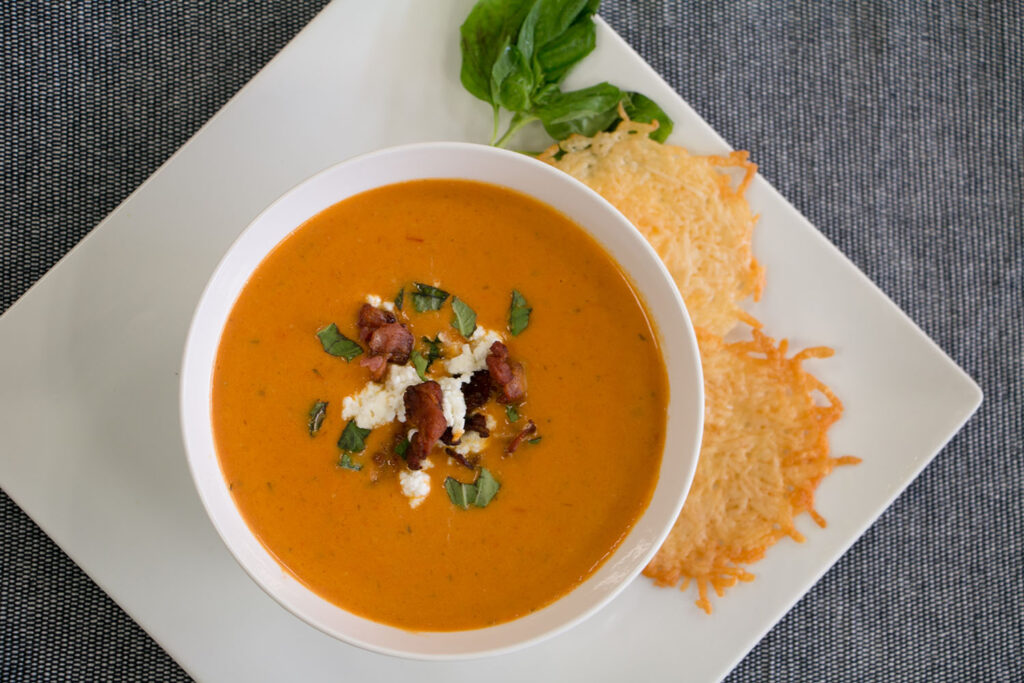 INSTRUCTIONS:
Heat the butter in a large soup pot over medium heat. Add the chopped bacon and cook, stirring until crisp and most of the fat has rendered. With slotted spoon, remove bacon from pot and set aside on paper towel-covered plate. Leave bacon fat/butter in pan.
Add the onions, carrots, celery and garlic to the pan. Cook until vegetables are tender and fragrant—about 8 minutes.
Stir in the flour and cook for about 3 minutes. Add broth and tomatoes and bring to a boil—whisking constantly.
Add the bay leaves and thyme to the soup. Lower the heat and simmer for 30 minutes. Remove from the heat and allow to cool. Remove the bay leaves.
With a hand held immersion blender, blend the soup until smooth. If you do not have an immersion blender, blend the soup in batches in a traditional blender. Do not fill blender to the top, as hot soup may escape and harm you.
Add the heavy cream, salt and pepper to taste. Warm to desired temperature for eating.
Divide into bowls and top with crumbled goat cheese, bacon pieces and fresh basil. Serve with Parmesan Crisps (see recipe below) and enjoy immediately!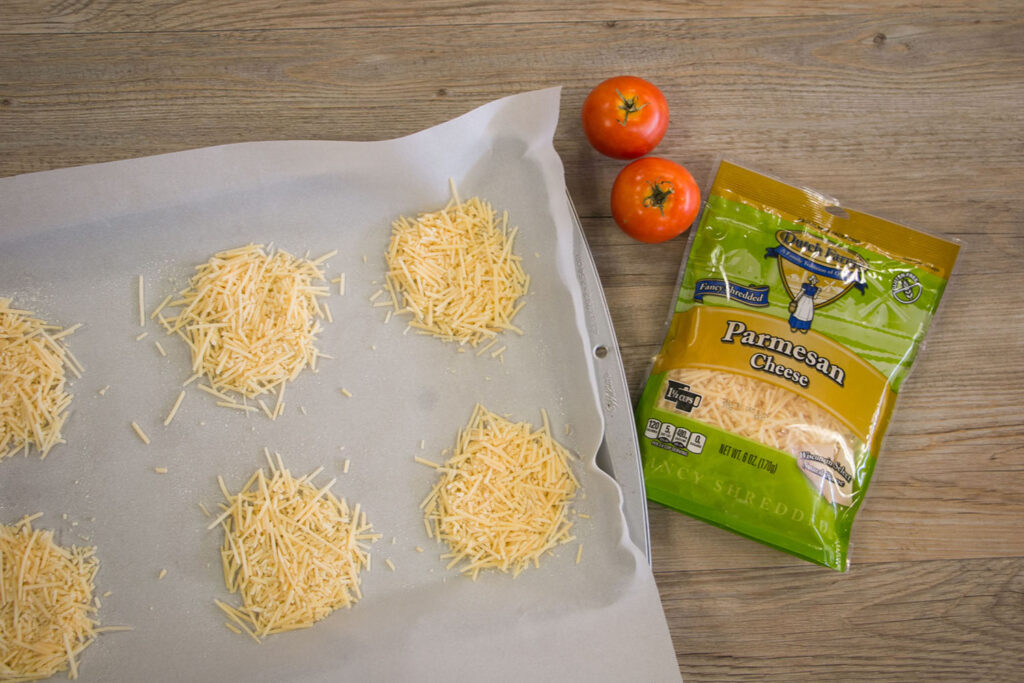 PARMESAN CRISPS
Take 1 – 8oz bag of Dutch Farms Shredded Parmesan Cheese
Preheat oven to 400 degrees.
Cover 1 large baking sheet/cookie sheet with parchment paper. Spray with aerosol cooking spray. Make 12 small circular piles of parmesan cheese. Spread the cheese out as thinly as possible.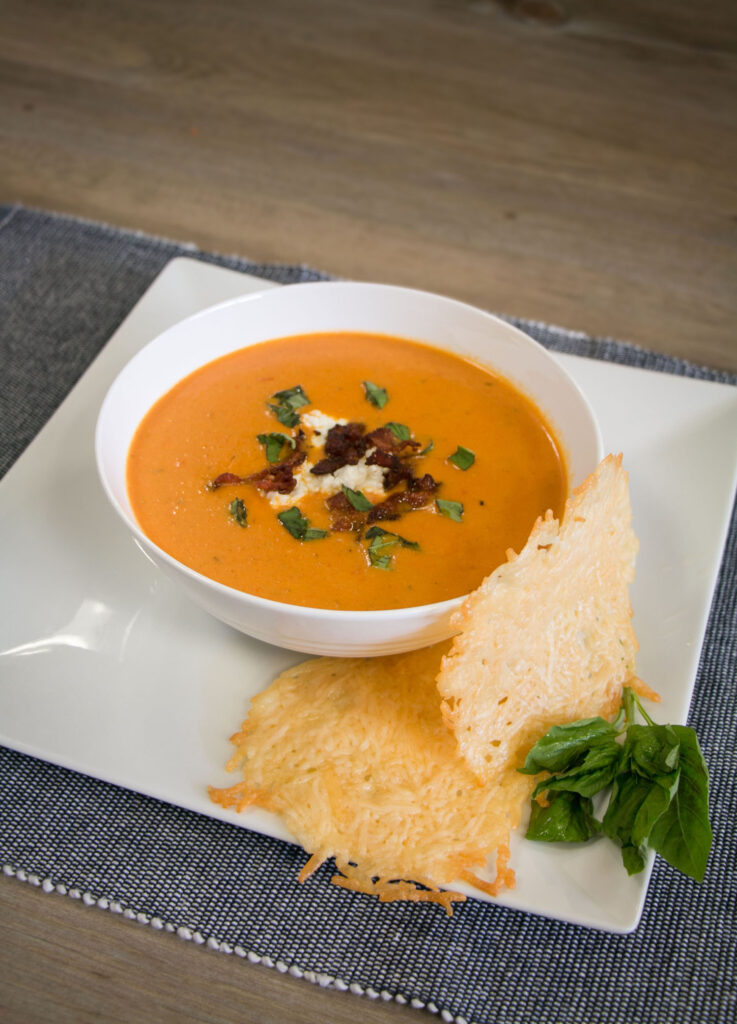 Bake until golden brown (approximately 7-9 minutes). Remove from oven and cool until crisp. If they aren't crisp like a cracker, they aren't done!
BONUS, EACH CRISP HAS LESS THAN 1 CARBOHYDRATE!!!!