Serves: 12
INGREDIENTS:
1 pound of cooked elbow macaroni
1 tablespoon of olive oil
1 small diced yellow onion
3 cloves of minced garlic
1 1/2 pounds of ground chuck beef
28 ounce can of crushed tomatoes
4 ounces of tomato paste
2 tablespoons of chili powder
1 tablespoon of cumin
1/2 cup of chopped crispy cooked Dutch Farms Bacon
3 cups of Dutch Farms shredded mild cheddar cheese
2 sliced green onions
salt and pepper to taste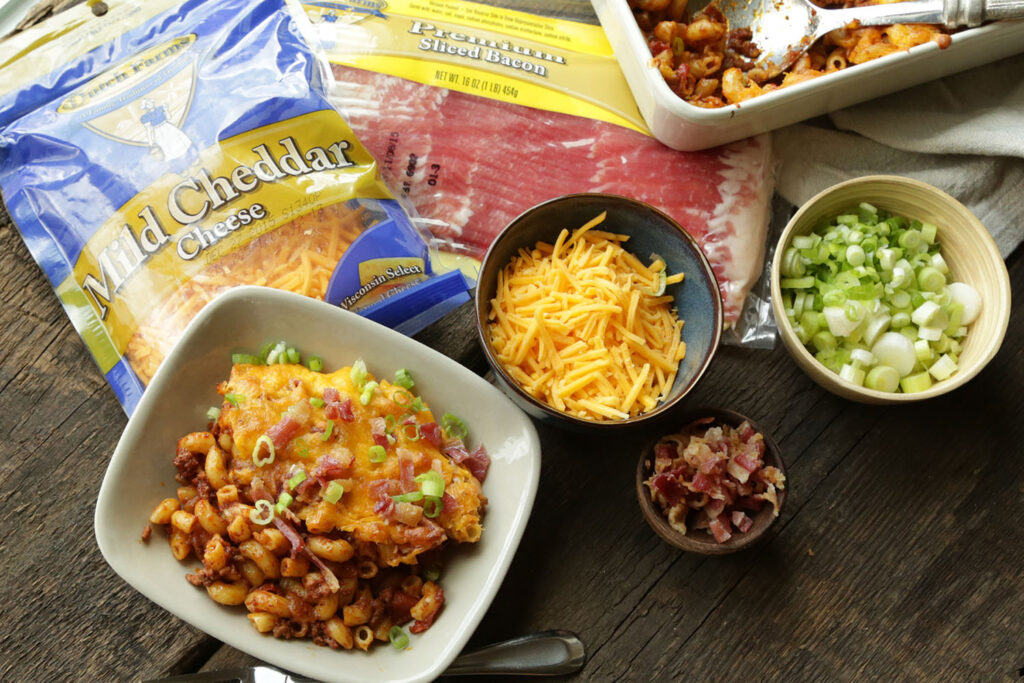 DIRECTIONS:
Preheat the oven to 375°
In a large pot on high heat with 1 tablespoon of olive oil, saute the onions and garlic for 6 to 8 minutes and then add in the ground meat and cook until all the pink is gone.
Next, add in the tomatoes, tomato paste, chili powder, salt and pepper and mix together until combined and stew on low heat for 10 minutes until the mixture becomes thick.
Add the noodles to the cooked ground meat mixture and stir until combined.  Transfer from the pot to a 13×9 casserole dish.  Top off by evenly sprinkling on the crispy chopped bacon and shredded cheddar until it's completely covered.
Bake in the oven on 375° for 30 minutes or until the cheese is melted and lightly browned.
Garnish with green onions and serve hot.