Makes 1 Roll
CAKE ROLL INGREDIENTS:
6 large Dutch Farms eggs, whites separated from yolks
1 cup granulated sugar
1 teaspoon of vanilla
2/3 cup all-purpose flour
1/3 cup of cocoa powder + more for dusting
1/2 teaspoon baking powder
pinch of salt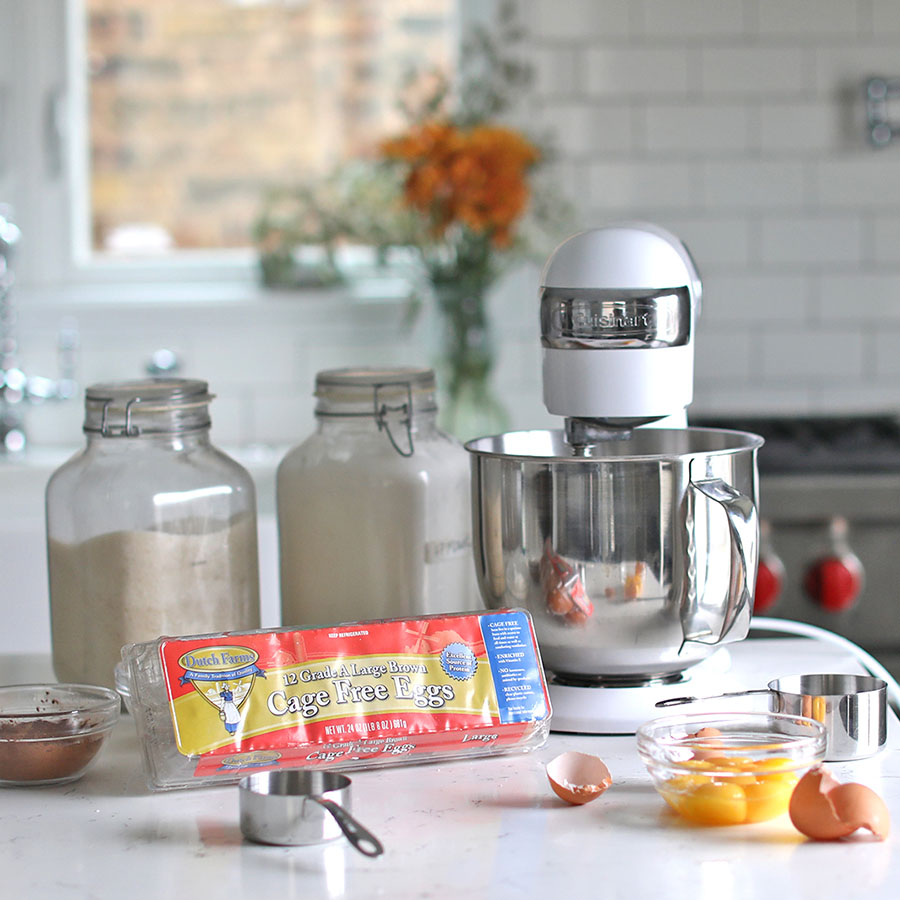 FILLING INGREDIENTS:
1 pound of Dutch Farms cream cheese
1 can of pumpkin puree
½ cup of sugar
¼ cup of roughly chopped walnuts + 1 tablespoon more for garnish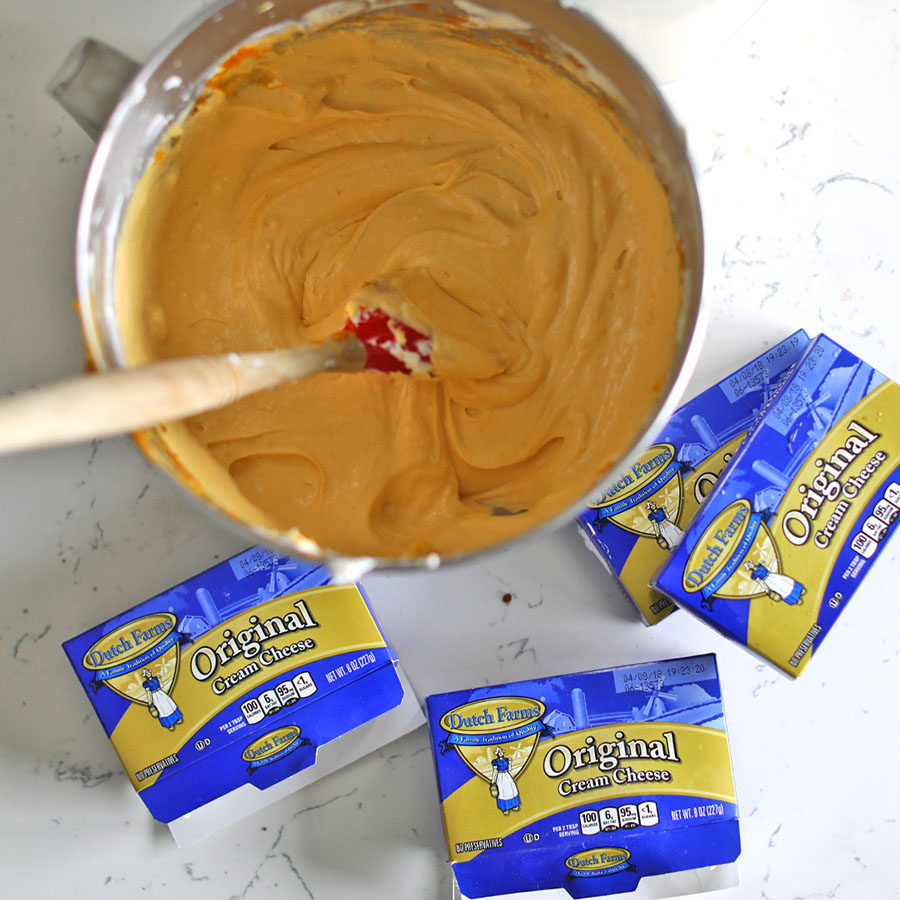 CHOCOLATE GANACHE INGREDIENTS:
8 ounces of semi-sweet chocolate
1 cup of heavy whipping cream
DIRECTIONS:
Preheat the oven to 375°.
Cake: Add the egg whites to a standing mixer with the whisk attachment and whisk on high speed until light and foamy, about 2 to 3 minutes. Slowly add in the granulated sugar and whisk until stiff peaks are formed.
In a separate bowl whisk together the egg yolks and vanilla and fold the mixture into the egg whites bowl using a rubber spatula.
In a separate bowl whisk together the flour, cocoa powder, baking powder and salt and fold it into the egg mixture in 2 batches using a rubber spatula.
Transfer the batter to a ½ cookie sheet tray with a silicon mat and evenly spread it out.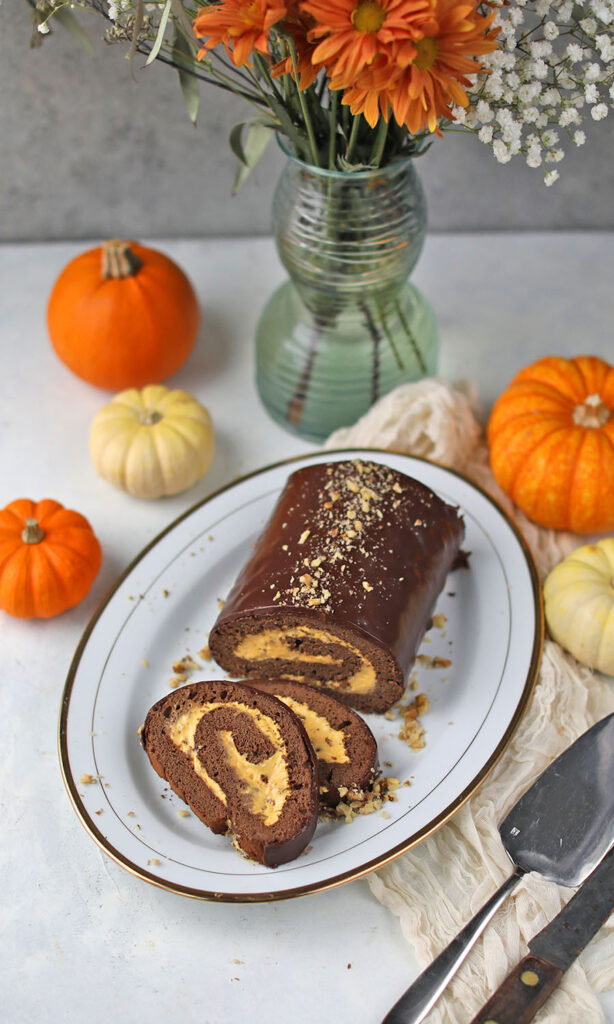 Bake for 10 to 12 minutes or until soft but firm on top.
Use a knife to release the cake form the sides and invert it on a clean linen generously dusted with cocoa powder. Roll up the cake and let stand until completely cooled to room temperature.
Filling: In a standing mixer with the whisk attachment whisk the cream cheese on high speed until light and fluffy. Mix in pumpkin and sugar and set aside.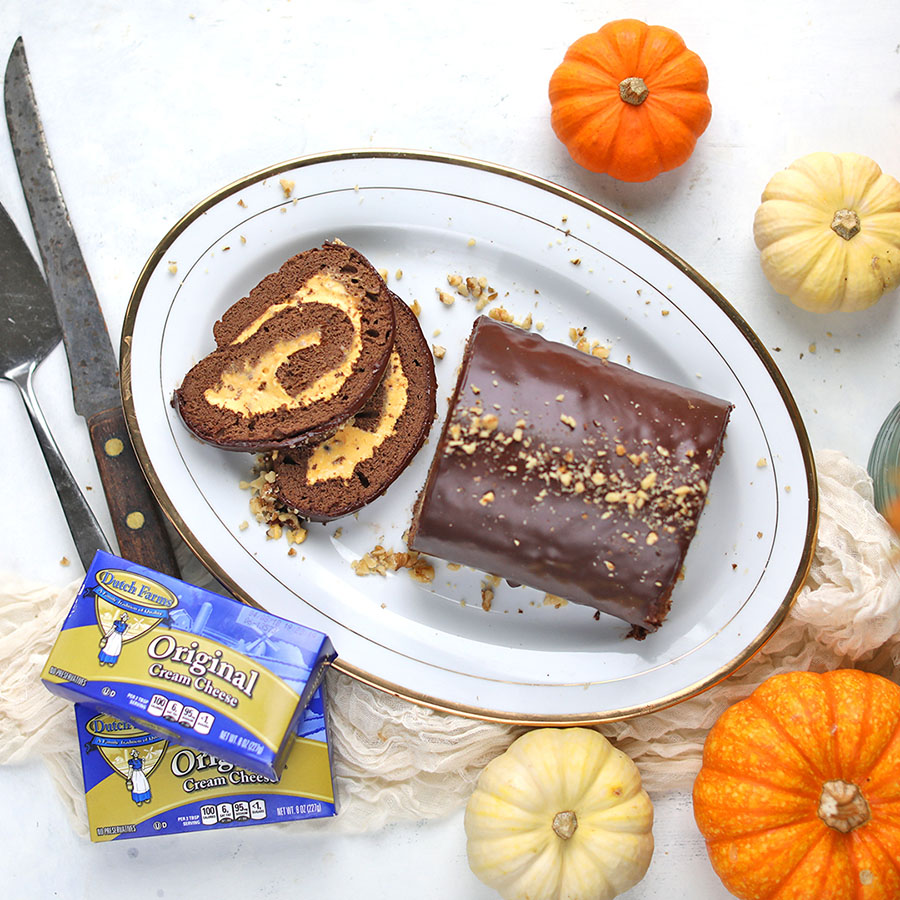 Unroll the cake roll and evenly spread the pumpkin cream cheese onto one side, sprinkle on ¼ cup of chopped walnuts and then reroll up the cake. Transfer to a a baking rack with a sheet tray underneath.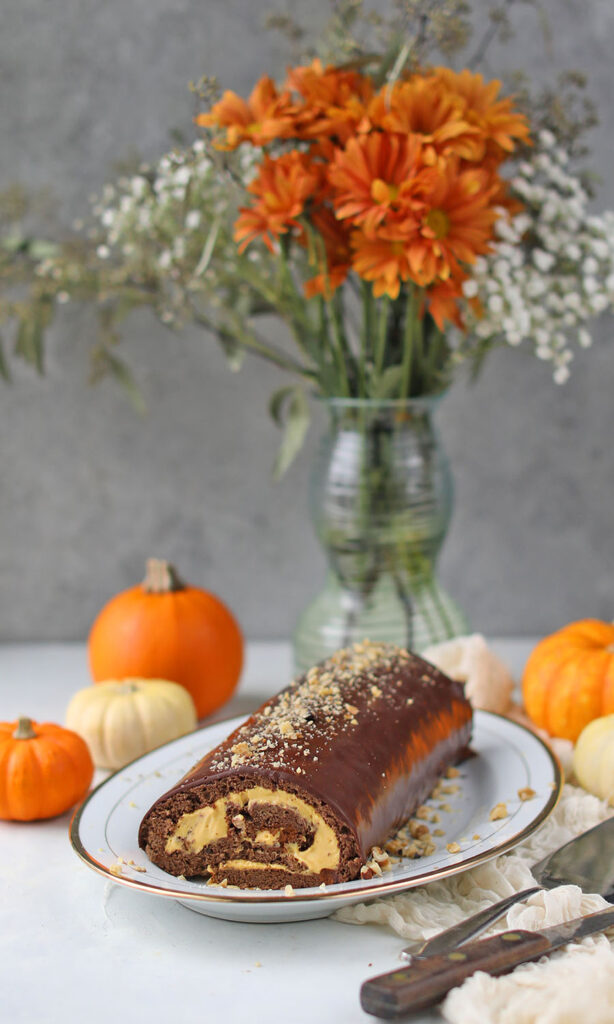 Ganache: Add the chocolate and whipped cream into a medium size bowl and microwave in 30 second bursts until completely melted. Pour over top of the cake until completely covered and chill in the refrigerator until it's completely cool.
Garnish with chopped walnuts, slice and serve!