Makes 1 pie
DOUGH INGREDIENTS:
4 cups of all-purpose flour
1 ¾ cup of Dutch Farms unsalted butter
1 teaspoon of salt
2 teaspoons of sugar
½ cup of ice cold water
1 Dutch Farms Egg yolk, whisked with 1 tablespoon of milk
FILLING INGREDIENTS:
4 cups of sliced strawberries
juice of 1 lemon
1 tablespoon of cornstarch
¾ cup of sugar
2 cups of blueberries
juice of ½ lemon
2 teaspoons of corn starch
½ cup of sugar
DECORATING DIRECTIONS:
Preheat the oven to 350°.
Dough: Add the flour, butter, salt and sugar to a food processor and process on high until the butter is the size of rice. Slowly add the water until the dough becomes mealy.
Split the dough in half and chill the dough for 30 minutes in the refrigerator.
Next roll out 1 of the doughs until it is about 1/8" thick and place it over a pie tin. Pinch the edges to form a decorative wavy outside shell. Brush with the whisked egg yolk and place back in the refrigerator.
Filling: In a medium size bowl toss together the strawberries, lemon juice, corn starch and sugar until combined and place it in ¾ of the chilled pie crust.
In a separate medium size bowl combine the blueberries, lemon juice, corn starch and sugar until combined and add it to the remaining ¼ of the pie shell.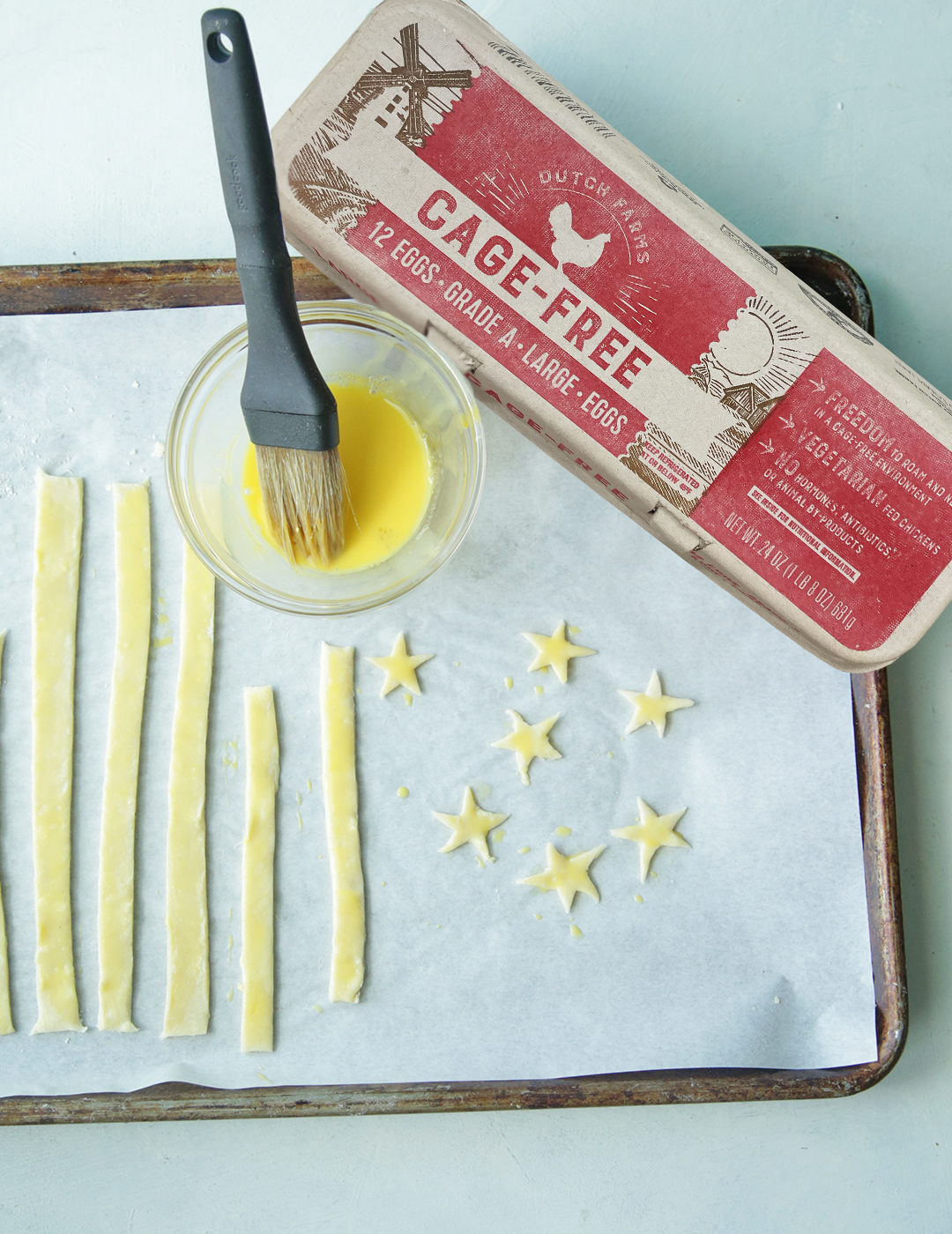 Bake in the oven at 350° for 30 to 40 minutes or until the crust is browned and the filling is soft and thick.
Top off the pie with the stars over the blueberries and the stripes over the strawberries.
Serve & Enjoy!