Recipes

DUTCH FARMS Strawberry
pound cake
By: Gayle Bialis from Pumkin 'N Spice
Prep Time: 15 minutes
Cook Time: 1 hour, 15 minutes
Total Time: 1 hour, 30 minutes
Yield: 10 slices
INGREDIENTS:
1/2 (4 ounces) package Dutch Farms cream cheese, softened
3/4 cup Dutch Farms unsalted butter, softened
1 1/4 cups white sugar
3 Dutch Farms eggs
1 1/2 cups all-purpose flour
2 teaspoons vanilla extract
1 cup diced strawberries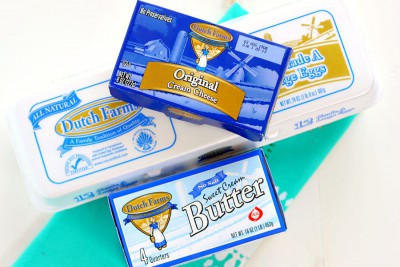 DIRECTIONS:
Preheat oven to 350F. Lightly grease a 9 inch loaf pan or bundt pan with non-stick cooking spray. Set aside.
In a large bowl, beat cream cheese using an electric hand mixer or stand mixer with fitted paddle attachment until light and fluffy.
Add in butter and beat until smooth.
Add in sugar, 1/2 cup at a time, until full incorporated.
Add in eggs and vanilla , beat until combined, and then add in flour. Beat until smooth.
Gently fold in strawberries.
Pour mixture into prepared pan.
Bake for 1 hour and 10-30 minutes, or until toothpick inserted into middle comes out clean.
Let cool for 5 minutes in pan, then remove to a wire rack to cool completely.
Enjoy!
Note* This pound cake take a while to bake. Oven times vary, so keep an eye on cake so it doesn't burn.