Recipes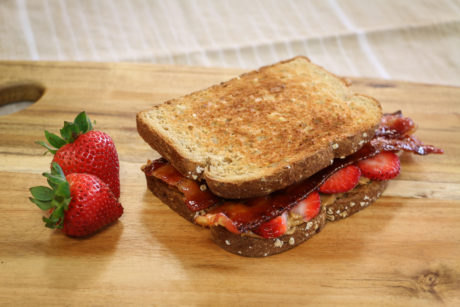 DUTCH FARMS Strawberry Bacon and peanut butter sandwich
STRAWBERRY BACON INGREDIENTS:
1 lb Dutch Farms Thick Cut Bacon
3-4 Tablespoons Strawberry Jam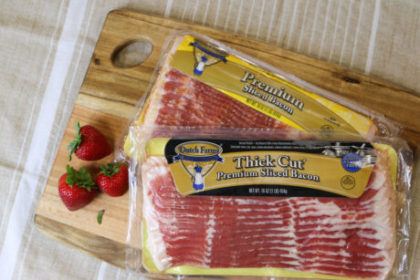 BACON DIRECTIONS:
Preheat oven to 375 degrees(f)
Place Dutch Farms bacon on large cookie sheet (do not overlap strips of bacon)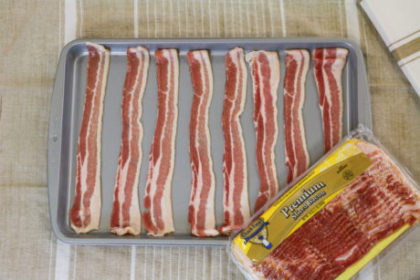 Bake for 8 minutes then remove from oven and drain excess grease from pan
Microwave Jam to melt a bit. Spread Jam on bacon with pastry brush
Place bacon back in oven for approximately 7 additional minutes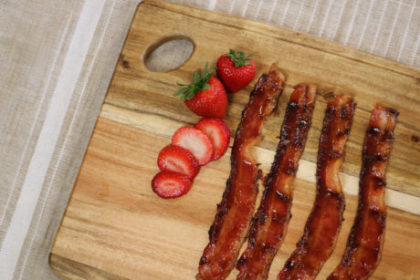 This is a sweet and savory accompaniment to any breakfast dish!
SANDWICH INGREDIENTS:
Dutch Farms Strawberry Bacon (See Recipe Above)
Wheat Or White Toast
Peanut Butter (We Like It Chunky!)
Fresh Sliced Strawberries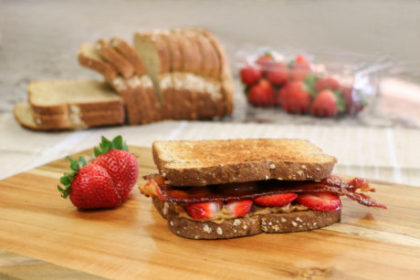 SANDWICH DIRECTIONS:
Toast your favorite bread and spread liberally with peanut butter (both sides is extra indulgent
Place sliced strawberries on peanut butter (most fruit works, i.e. bananas, blueberries, apple)
Add 4 slices Dutch Farms Strawberry Bacon on sandwich
Munch, Crunch and enjoy!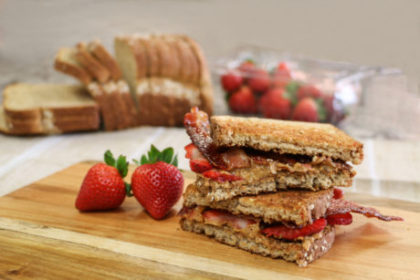 Save
Save
Save
Save
Save
Save