Recipes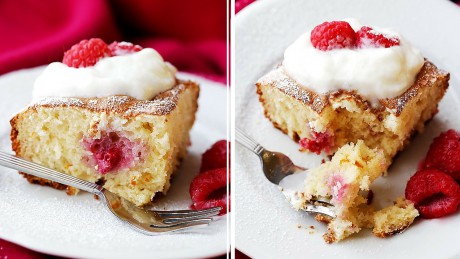 DUTCH FARMS raspberry cream cheese coffee cake
 By: Katerina Petrovska from Diethood

Serves 10
Prep Time: 15 minutes
Cook Time: 35 minutes
INGREDIENTS:
1-1/4 cups all-purpose flour
1-1/4 teaspoons baking powder
¼ teaspoon baking soda
¼ teaspoon salt
½ tablespoon orange zest
4 tablespoons Dutch Farms butter, softened
1 cup sugar, divided
2 large Dutch Farms eggs
1 teaspoon pure vanilla extract
½ cup Dutch Farms Nonfat Vanilla Yogurt
2 ounces Dutch Farms Neufchatel Cheese
1 egg white
1 cup fresh raspberries
Powdered sugar
Dutch Farms whipped topping, optional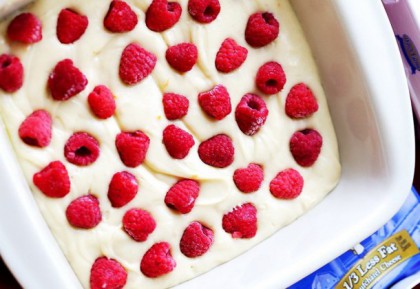 DIRECTIONS:
Preheat oven to 375F.
Lightly coat a 9×9 baking pan with cooking spray and sprinkle with flour; set aside.
In a mixing bowl, whisk together flour, baking powder, baking soda, salt and orange zest; set aside.
In your mixer's bowl, combine butter and ¾-cup sugar; beat on medium speed until creamy and thoroughly combined.
Add in the eggs, one by one, beating until well blended.
Add vanilla and continue to mix until incorporated.
Alternately add in the flour mixture and yogurt, beating just until combined.
Pour batter into previously prepared pan; set aside.
In a mixing bowl, combine remaining sugar and Neufchatel cheese; beat on medium speed until combined.
Add the egg white; beat on high for 2 minutes, or until mixture is combined and doubled in size.
Spoon cream cheese mixture over the cake batter.
Sprinkle fresh raspberries over the cake.
Bake for 30 to 35 minutes, or until a toothpick inserted in the center comes out clean.
If cake starts to brown on top a bit too soon, tent it loosely with foil.
Remove from oven and let completely cool in baking pan.
Top with powdered sugar.
Cut and serve with whipped topping.