Recipes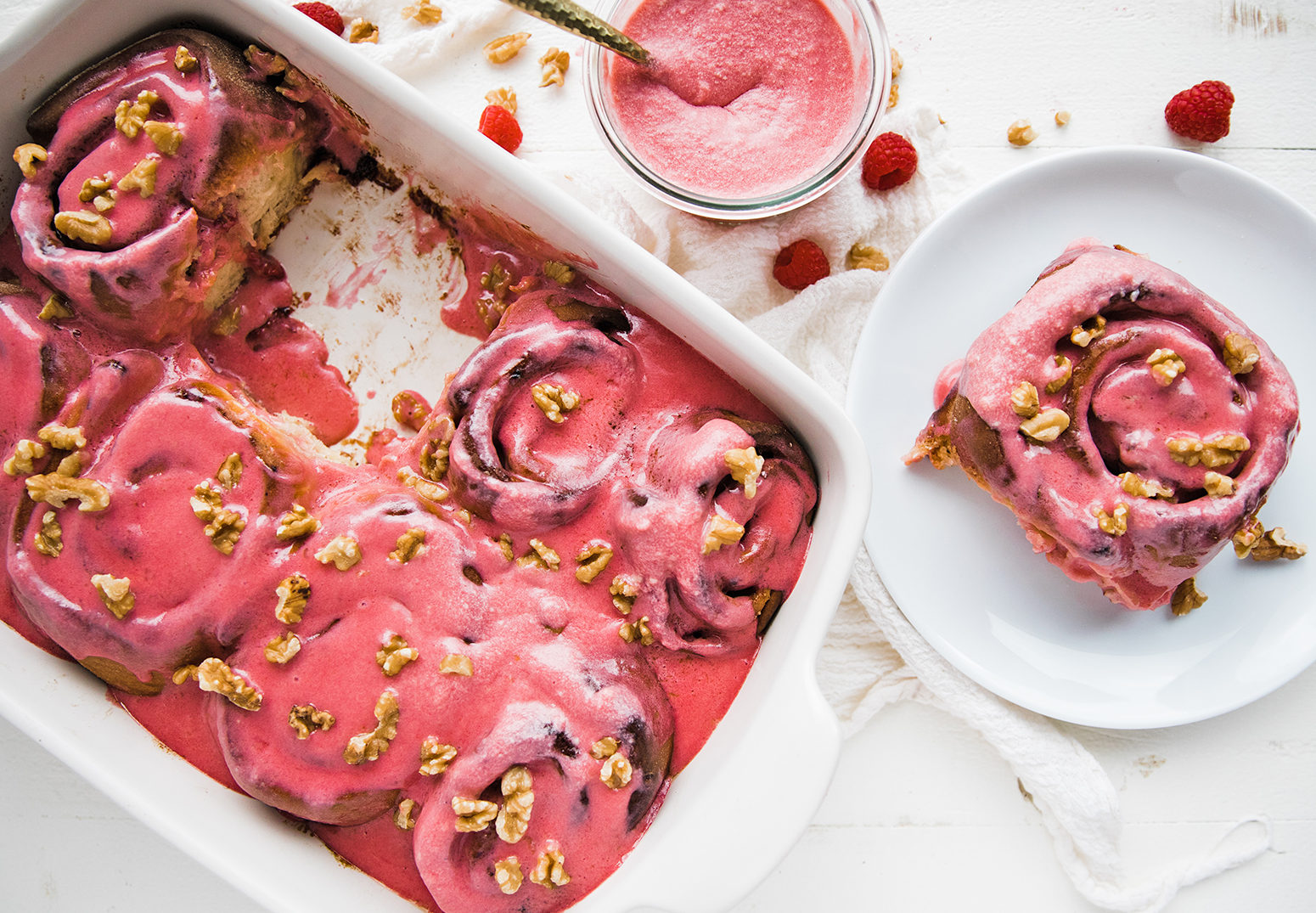 DUTCH FARMS RASPBERRY CINNAMON ROLLS
Makes 8 Large Cinnamon Rolls
CINNAMON ROLL INGREDIENTS:
1 cup of warm milk at 110°
½ cup of sugar
1 packet of quick rising yeast
4 cups of all-purpose flour
2 Dutch Farms eggs
¼ cup of melted Dutch Farms butter + ¾ cup of butter cut into chunks
2 tablespoons of ground cinnamon
1 cup of loosely packed light brown sugar
1 cup of fresh raspberries cut in half
RASPBERRY GLAZE INGREDIENTS:
2 cups of fresh raspberries
½ cup of sugar
1 cup of Dutch Farms cream cheese
½ cup of softened Dutch Farms unsalted butter
1 cup of powdered sugar
3 tablespoons of heavy cream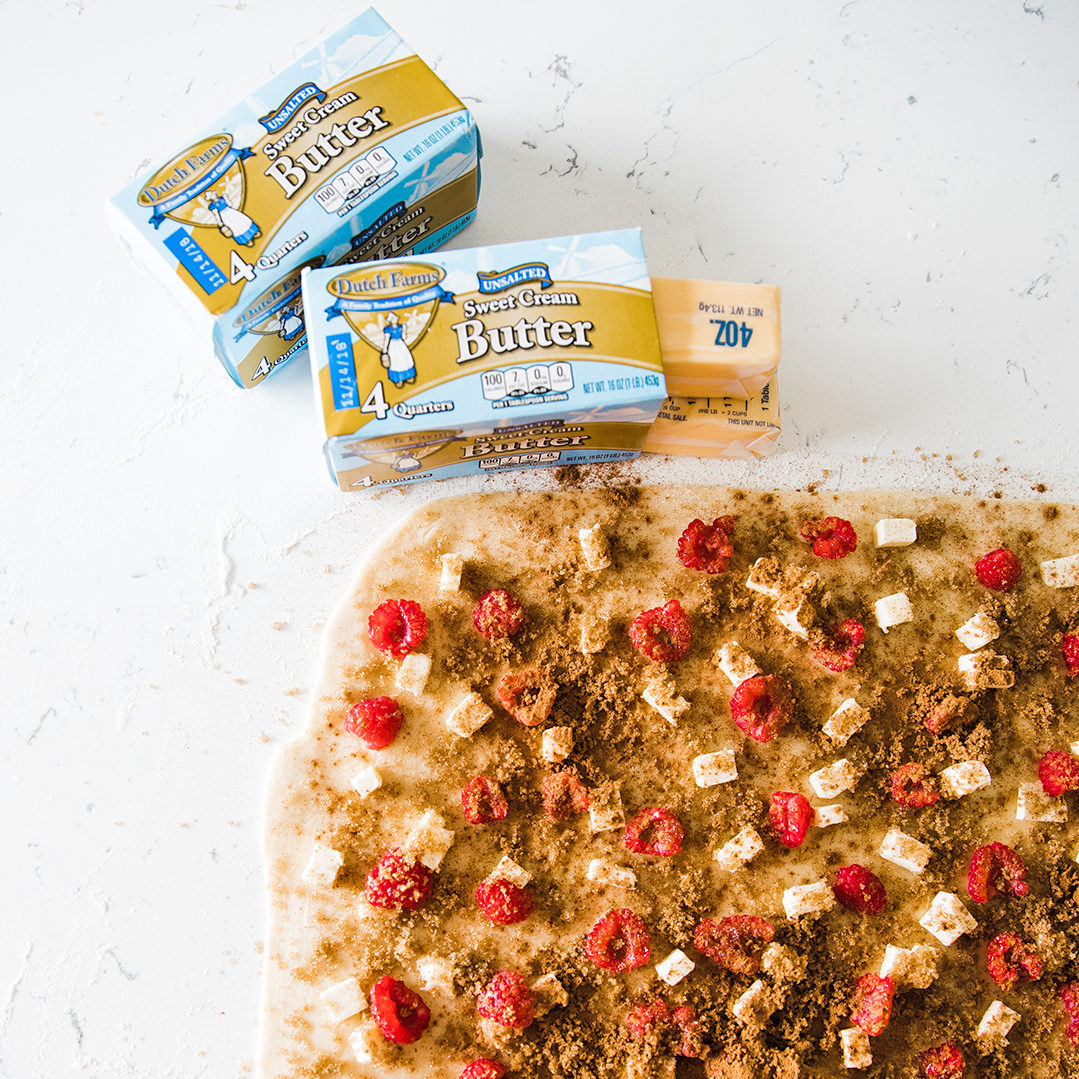 DIRECTIONS:
Preheat the oven to 400°.
For the Cinnamon Rolls: Add the milk, 1 tablespoon of sugar and yeast to the bowl of a standing mixer and let sit for 5 minutes or until it begins to foam and form a raft.
Next, with the hook attachment, add in the flour and remaining sugar and mix on high until combined.
Add in 1 egg at a time while mixing and then the melted butter and knead on high speed for 5 minutes until a dough forms.
Transfer the dough to a bowl, cover with plastic and let rise for 1 hour or until it doubles in size.
Roll out the dough on a clean surface dusted with flour and then evenly spread on the butter chunks, cinnamon, brown sugar and raspberries and roll it up.
Slice 8 slices and place them in a 13"x9" casserole pan, cover with plastic and let rise for 1 hour.
Bake the cinnamon rolls at 400° for 25 to 30 minutes, or until golden brown and top and cooked through out.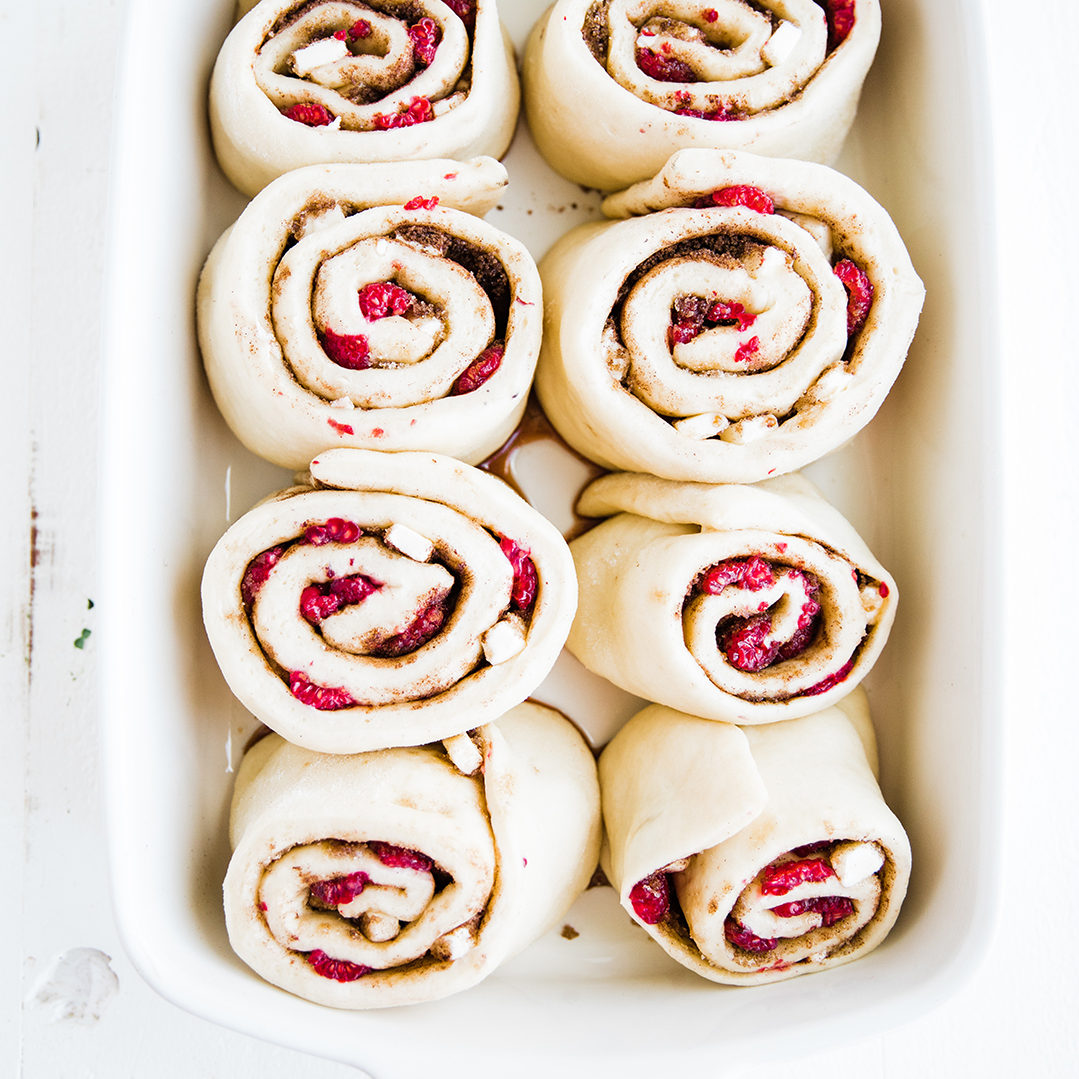 Icing: Add the raspberries and sugar to a small sauce pot and cook over medium-low heat until the raspberries are broken down and it becomes a thick sauce, about 20 minutes.
Strain the mixture completely and cool.
Next, add the cream cheese and butter to a standing mixer with the paddle attachment and whip until light and fluffy. Add in the powdered sugar and chilled raspberry sauce on low speed until mixed in and finish by mixing in the heavy cream.
Add the icing evenly over the cinnamon rolls just as soon as they come out of the oven. Serve hot!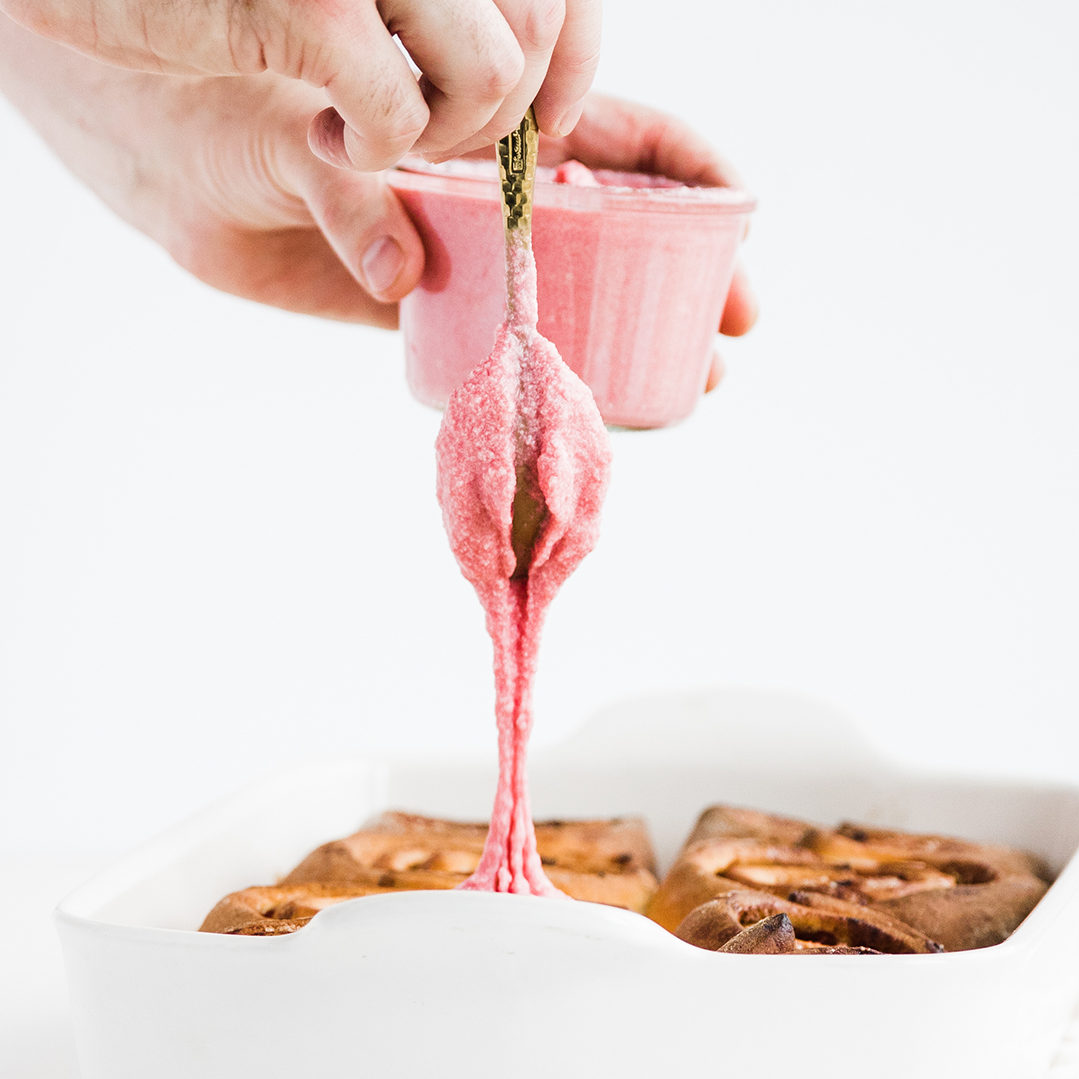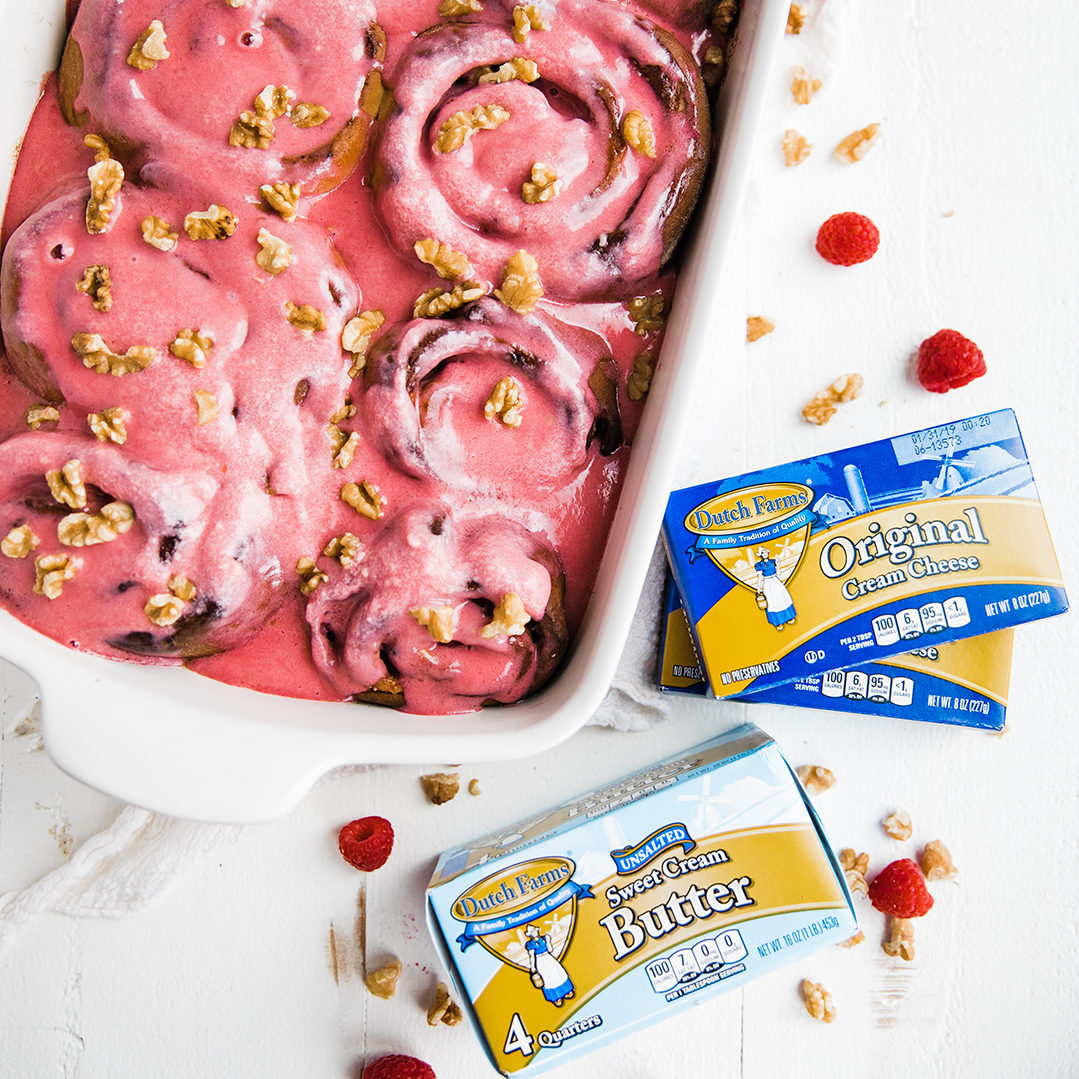 Save
Save
Save
Save
Save
Save