Recipes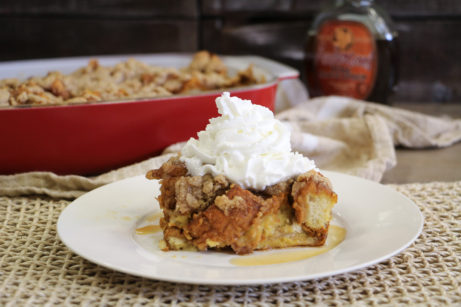 DUTCH FARMS Pumpkin
French Toast Bake
FRENCH TOAST INGREDIENTS:
5 large Dutch Farms eggs
¾ cup Dutch Farms Whole Milk
¾ cup half and half
½ cup brown sugar
1 cup pumpkin puree
1 tsp cinnamon
½ tsp nutmeg
½ tsp cloves
1 tsp vanilla
One 15 oz French bread loaf
TOPPING INGREDIENTS:
2/3 cup brown sugar
2/3 cup flour
½ tsp cinnamon
¼ tsp nutmeg
¼ tsp cloves
Pinch salt
6 tbs unsalted Dutch Farms butter, softened
Maple syrup, to serve
Dutch Farms whipped topping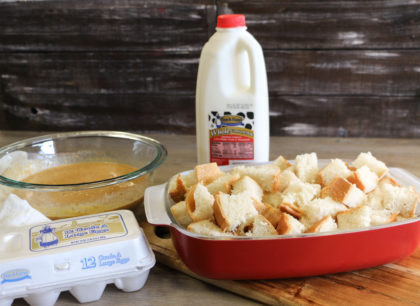 DIRECTIONS:
Dice French bread into 1 inch squares
In a large bowl, mix eggs, half and half, brown sugar, pumpkin puree, spices, and vanilla
Grease casserole dish, and put French bread cubes inside
Pour egg mixture over the bread and lightly mix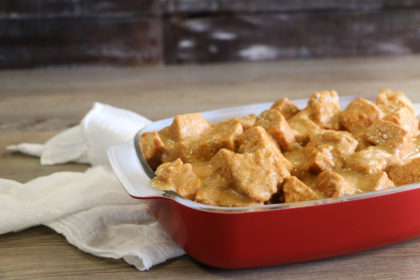 Cover and refrigerate for 1-3 hours
Meanwhile, combine brown sugar, flour, spices and salt. Add softened butter and work into mixture using a spoon or your hands until butter is evenly incorporated.
Cover and refrigerate until you're ready to bake the French toast.
Preheat oven to 350. Crumble topping evenly over the top of the French toast. Bake for 40-55 minutes, until puffy and golden brown.
Serve topped with syrup and Dutch Farms whipped topping
Enjoy!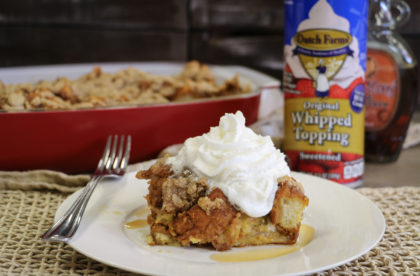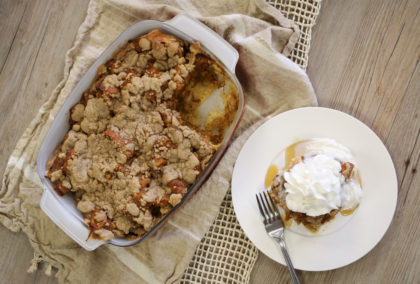 Save
Save
Save
Save
Save