Recipes

DUTCH FARMS Pumpkin cream cheese muffins
 MAKES 24

MUFFIN INGREDIENTS:
2½ cups flour
1 tablespoon baking powder
1½ teaspoons pumpkin pie spice
½ teaspoon salt
½ teaspoon cinnamon
1 cup pumpkin puree (not pumpkin pie filling)
1 cup brown sugar
¾ cup milk
6 tablespoons Dutch Farms butter, melted
2 Dutch Farms eggs
STREUSEL TOPPING  INGREDIENTS:
½ cup flour
1 teaspoon cinnamon
¼ cup brown sugar
4 tablespoons Dutch Farms butter
CREAM CHEESE FILLING INGREDIENTS:
6 ounces Dutch Farms cream cheese, softened
¾ cup powdered sugar
¼ teaspoon vanilla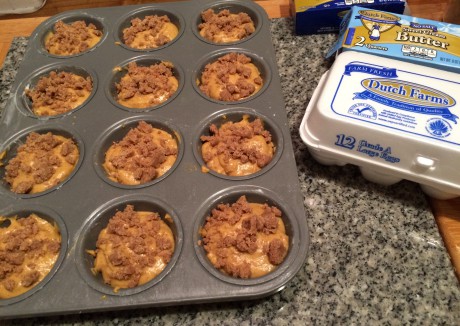 DIRECTIONS:
Preheat oven to 400 degrees and grease a muffin tin. Prepare the cream cheese filling by mixing together cream cheese, powdered sugar and vanilla until smooth. Place in the freezer until ready to use.
Prepare the streusel by whisking together flour, cinnamon and brown sugar. Mash in butter with a fork or your fingers. Set aside.
Prepare the muffin batter. Whisk together flour, baking powder, pumpkin pie spice, salt and cinnamon. In another bowl mix pumpkin puree, brown sugar, milk, butter and eggs. Add wet ingredients to dry ingredients and mix until incorporated. Fill muffin tins ¼ full.
Drop a dollop of the cream cheese filling in the center of each muffin tin. Cover with more muffin batter until the tin is ⅔ full. Sprinkle streusel on top of the muffin batter.
Bake for 12­-15 minutes until an inserted toothpick comes out mostly clean. Allow to cool.