Recipes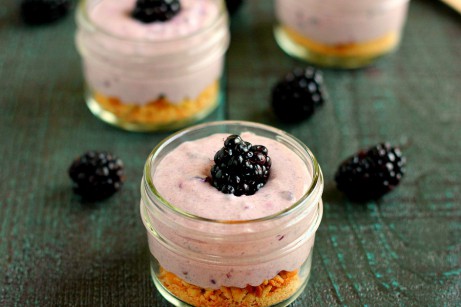 DUTCH FARMS No-bake blackberry cheesecake

By: Gayle Bialis from Pumkin 'N Spice
INGREDIENTS:
15 vanilla wafer cookies
1 block (8 ounces) Dutch Farms Cream Cheese, softened
1 cup heavy cream
4 tablespoons white sugar
1/2 teaspoon vanilla
12 ounces fresh blackberries
Whipped cream for garnish, if desired

DIRECTIONS:
In a food processor, blend vanilla wafers into fine crumbs. Alternatively, you can add wafers to a large ziplock bag and crush with a rolling pin.
Spread cookie crumbs evenly on bottom of 6 small glasses or mini trifles. Refrigerate while preparing rest of dessert.
In a large bowl, whip cream cheese, heavy cream, sugar, and vanilla extract using a stand mixer with a fitted paddle attachment or hand mixer until smooth.
Add in blackberries and mix until combined.
Spoon mixture into prepared glasses or trifles.
Refrigerate for at least 30 minutes or until set.
Top with additional blackberries and whipped cream, if desired.
Enjoy!