Recipes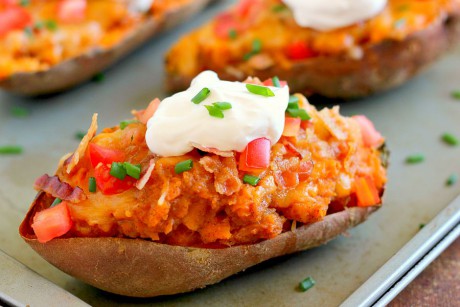 DUTCH FARMS Loaded twice baked sweet potatoes
Yield: 8 sweet potato halves
Prep Time: 10 minutes
Cook Time: 1 hour, 15 minutes
INGREDIENTS:
4 sweet potatoes
3 tablespoons brown sugar
5-6 tablespoons milk
3 tablespoons Dutch Farms butter, softened
2 teaspoon cinnamon
Dash of salt and pepper
1/2 cup Dutch Farms shredded white sharp cheddar cheese
1/2 cup Dutch Farms shredded marble jack cheese
4 strips Fully Cooked Dutch Farms bacon, heated and crumbled
Dutch Farms sour cream
Tomatoes, if desired
Chives, if desired
DIRECTIONS:
Preheat oven to 375F.
Place potatoes on a large baking pan. Pierce each potato with a fork. Bake for 1 hour or until soft.
Remove from oven and let cool.
Cut each potato in half lengthwise and scoop out the flesh into a medium bowl, making sure to leave a thin coating on the skins of the potatoes.
To the filling, add the brown sugar, milk, butter, cinnamon, salt, and pepper. Mix well.
Fill each potato with the mixture and top with cheese.
Bake for 15 minutes, or until filling is warmed and cheese is melted.
Remove from oven and top with bacon, tomatoes, chives, and sour cream.
Serve immediately.Enjoy!