Recipes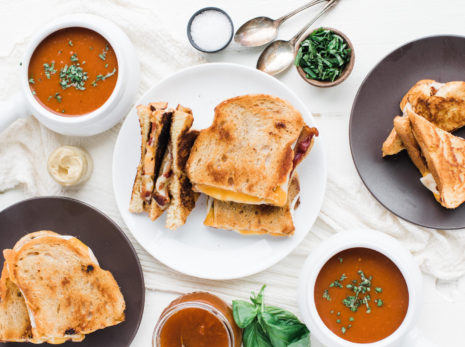 DUTCH FARMS GOURMET Grilled Cheese with Tomato SOup
SOUP INGREDIENTS:
1 tablespoon olive oil
1 peeled and large diced sweet onion
2 finely minced cloves garlic
2 28-ounce cans peeled tomatoes and juice
2 cups vegetable stock
¼ cup tomato paste
2 tablespoons balsamic vinegar
salt and pepper to taste
chopped fresh basil for garnish
GRILLED CHEESE INGREDIENTS:
4 tablespoons softened unsalted Dutch Farms Butter
8 slices of brioche or Italian bread
¼ cup apricot jam
2 tablespoons Dijon mustard
8 slices Dutch Farms Cheddar Cheese
8 slices Dutch Farms Provolone Cheese
12 slices crisp cooked Dutch Farms Bacon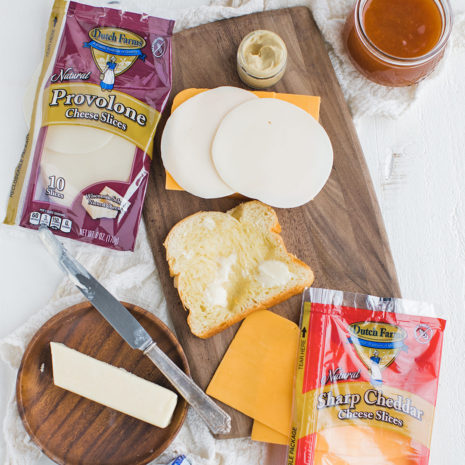 SOUP INSTRUCTIONS:
Add the olive oil to a medium size pot over medium heat and add the onions to caramelize, about 15-20 minutes.
Once brown, stir in the garlic and then add in the tomatoes and vegetable stock. Simmer over low heat for 20-30 minutes and then puree using a hand blender or a blender.
Next, whisk in the tomato paste, vinegar, salt and pepper and cook for low heat for 10-15 minutes or until it has thickened up. Serve with chopped fresh basil.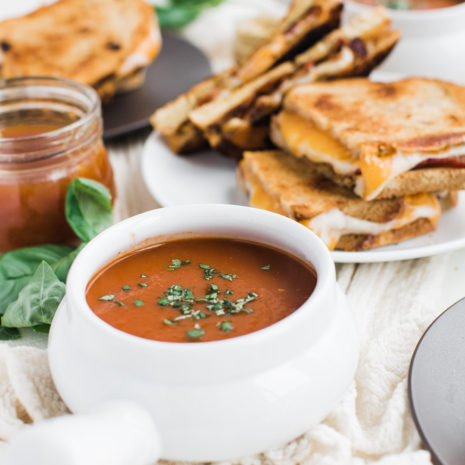 GRILLED CHEESE INSTRUCTIONS:
Brush all sides of the bread with the softened butter and add to a flat top grill over medium heat.
After 3 to 4 minutes or browned on one side of the bread, flip it over and add jam and Dijon mustard to 4 slices of bread.
Next, add 2 slices each of cheddar and provolone cheese on top of the jam and Dijon mustard followed up by adding on 3 slices of bacon.
Add the other slice of bread to the top of the side with cheese and bacon. and cook for a few minutes or until the bread is browned on the outside and the cheese is melted.
Slice and serve with the tomato soup.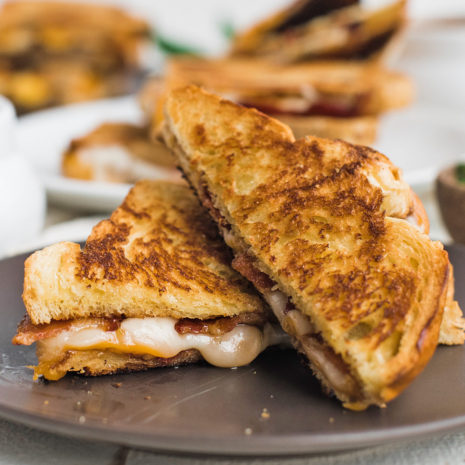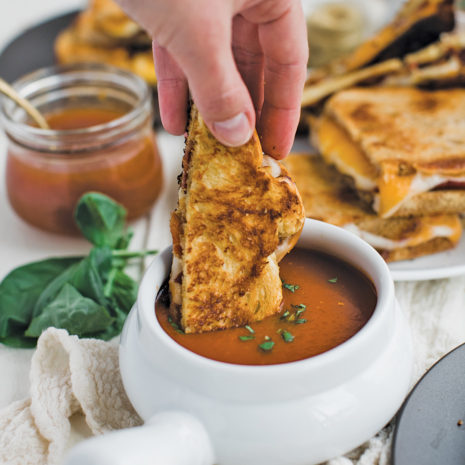 Save
Save
Save
Save