Recipes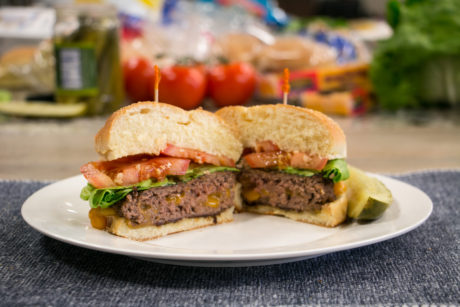 DUTCH FARMS double-Stuffed Cheeseburger
Makes 4-6 burgers, depending on your appetite!

HELPFUL KITCHEN HACK AHEAD!
INGREDIENTS:
2 pounds ground chuck
One 8oz Dutch Farms Sharp Cheddar Cheese bar
(or other Dutch Farms favorite) – FROZEN!
Bib lettuce
Tomatoes
Hamburger buns
Salt and pepper to taste
Optional: condiments or even top with Dutch Farms Bacon for extra yum and protein!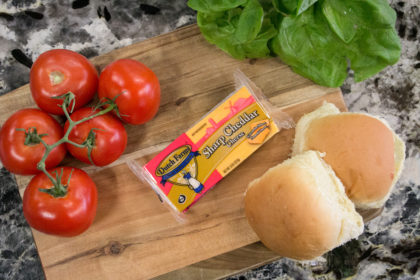 INSTRUCTIONS:
*HACK: Using frozen cheese allows for the burger to cook fully while the cheese is heating and melting. It allows for the cheese to not run out of the burger completely … so that when you bite into your juicy Dutch Farms Stuffed Cheeseburger, you get a mouthful of yummy delicious molten cheese!*
At least 1 hour prior to cooking, place cheese in freezer
Take 8oz. of fresh ground chuck. Then take about 2/3 of the ground meat and form into patty.
Remove cheese from the freezer and slice two 1-oz. pieces of FROZEN Dutch Farms Sharp Cheddar cheese bar and place on burger patty.
Cover with remaining 1/3 of the ground meat and form a patty where the cheese can no longer be seen.
Preheat stove to medium high heat (or use grill if preferred)
Cook in a skillet on the stove top for approximately 5-6 minutes per side on medium-high heat or to desired doneness. No additional butter or oil is needed in the pan.
Serve the stuffed cheeseburger stacked high on bun with lettuce, tomato and all your favorite toppings!
Enjoy!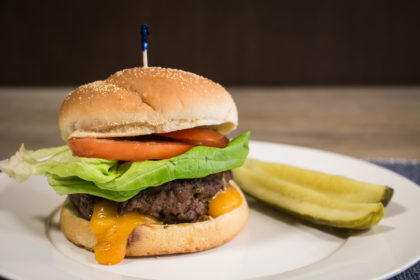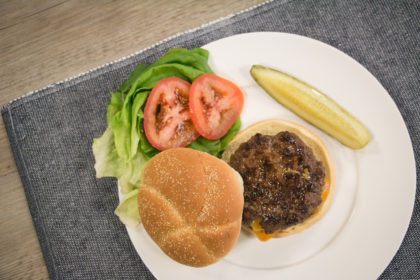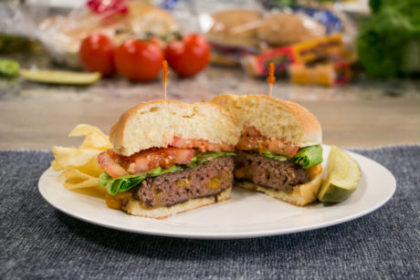 Save
Save
Save
Save
Save
Save
Save
Save
Save
Save
Save
Save
Save
Save
Save
Save