Recipes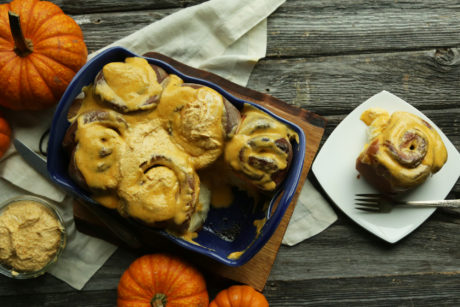 DUTCH FARMS giant cinnamon rolls & pumpkin cream cheese icing
Makes 6
CINNAMON ROLL INGREDIENTS:
⅓ cup sugar + 1 tablespoon
1 cup whole milk heated to 110°
1 tablespoon fast acting yeast
4 cups all-purpose flour
2 eggs
4 tablespoons melted Dutch Farms unsalted butter + 4 tablespoons cut up
¾ cup light brown sugar
2 tablespoons ground cinnamon
ICING INGREDIENTS:
1 stick Dutch Farms unsalted butter
3/4 cup Dutch Farms cream cheese
1 1/2 cups powdered sugar
½ cup canned pumpkin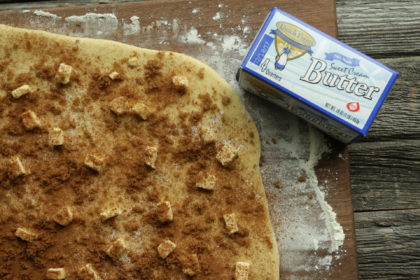 INSTRUCTIONS:
Preheat the oven to 375°.
Place 1 tablespoon of the sugar, warm milk and yeast in a standing mixer bowl and let sit until it begins to foam, about 5 minutes.
Hook the bowl to a standing mixer and with the hook attachment add in the rest of the sugar and flour and mix until combined on low speed.
Turn it to high speed and add in 1 egg at a time until combined and then add in the butter and mix for 5 to 6 minutes or until it be comes a ball.
Put the dough in a bowl and cover with a towel for 1 hour.
Next, roll out the dough on a clean surface dusted with flour until it is the size of a large rectangle then evenly sprinkle on the brown sugar, cinnamon and cut up butter.
Roll the dough up and make 6 slices.  Place them in a buttered casserole dish, cover with a towel and sit for 1 more hour.
Bake the them for 20 to 22 minutes or until they are browned on the top.
Icing: Whip together the butter, cream cheese, sugar and pumpkin until it is light and fluffy, about 5 minutes.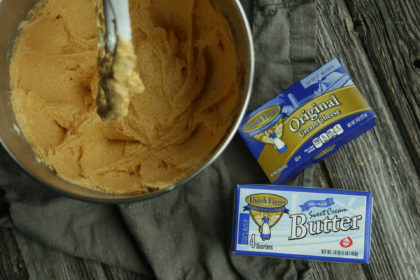 Once the cinnamon rolls are done spread the icing all over the top and serve warm!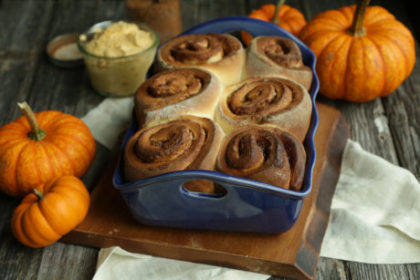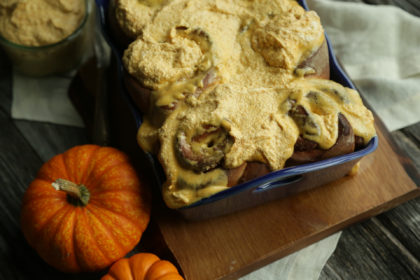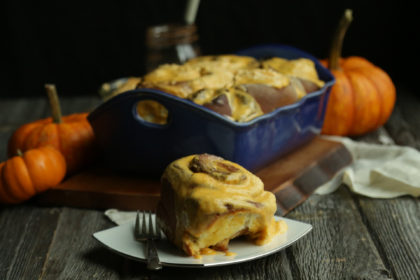 Save
Save
Save
Save
Save
Save
Save
Save