Recipes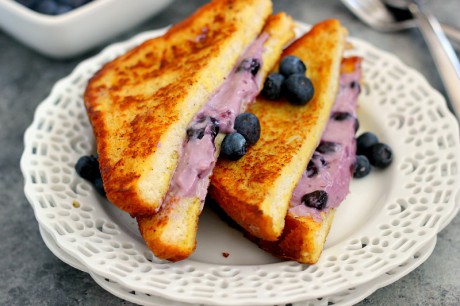 DUTCH FARMS Blueberry Cheesecake
Stuffed French Toast
 By: Gayle Bialas from Pumkin 'N Spice

Prep Time: 10 minutes
Cook Time: 15 minutes
Total Time: 25 minutes
Yield: 4 servings
FILLING INGREDIENTS:
1 (8 ounce) block Dutch Farms cream cheese, softened
1/2 cup powdered sugar
1/4 cup blueberry preserves
1 teaspoon vanilla extract
FRENCH TOAST INGREDIENTS:
4 Dutch Farms eggs
1 cup milk (any kind)
1/2 teaspoon cinnamon
1/4 teaspoon nutmeg
Pinch of salt
1 tablespoon vanilla extract
8 slices thick bread, such as Texas toast
3 tablespoons unsalted Dutch Farms butter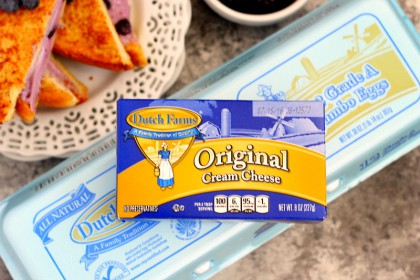 DIRECTIONS:
In a medium bowl, beat cream cheese and powdered sugar with a hand mixer or stand mixer with fitted paddle attachment until light and fluffy.
Stir in vanilla extract and blueberry preserves. Set aside.
In another medium bowl, whisk eggs, milk, cinnamon, nutmeg, salt and vanilla. Set aside.
In a large griddle or skillet, heat butter until melted.
Take one slice of bread and dip into egg mixture, making sure to coat the entire slice. Remove bread from bowl and place onto buttered griddle.
Cook bread for 3-4 minutes per side, or until bread is golden and crisp. Remove to another plate.
Repeat with remaining slices of bread.
Once French toast is cooked, spread 2 tablespoons of cream cheese mixture onto 4 slices of French toast.
Take remaining four slices of bread and lay on top of cream cheese French toast.
Cut diagonally and serve with syrup and blueberries, if desired.
Enjoy!