Recipes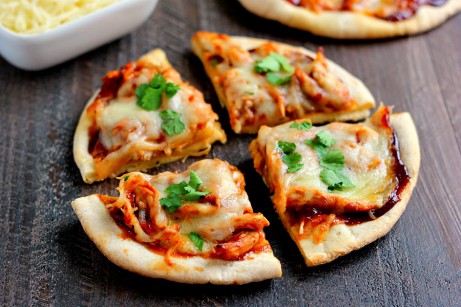 DUTCH FARMS Barbecue chicken
pita pizza

Submitted By: Gayle Bialis from Pumkin 'N Spice
Prep Time: 10 minutes
Cook Time: 20 minutes
Total Time: 30 minutes
INGREDIENTS:
4 flat pita breads

2 cups shredded chicken

1/4 cup barbecue sauce, plus 8 tablespoons, divided

2 cups shredded Dutch Farms Mozzarella cheese

Fresh cilantro for topping, if desired

 
DIRECTIONS:
Preheat oven to 400F.
In a small bowl, mix chicken and 1/4 cup barbecue until combined. Set aside.
Spread 2 tablespoons of barbecue sauce onto each pita.
Top with a thin layer of Mozzarella cheese, followed by the barbecue sauce, more cheese, and red onions. Repeat with each pita.
Place each pita on a large baking pan.
Bake for 15-20 minutes.
Remove from oven and cut into slices.
Serve immediately.
Enjoy!