Recipes

DUTCH FARMS peach bars
SHORTBREAD CRUST INGREDIENTS:
1 cup Dutch Farms unsalted butter, melted
½ cup granulated sugar
2 teaspoons vanilla extract
½ teaspoon salt
2 cups all-purpose flour
PEACH FILLING INGREDIENTS:
2 large Dutch Farms eggs
1 cup granulated sugar
2 Tablespoons all-purpose flour
½ teaspoon salt
4 medium peaches, peeled and chopped
STREUSEL INGREDIENTS:
1 cup old-fashioned oats
2/3 cup packed light or dark brown sugar
1/2 teaspoon ground cinnamon
1/2 cup all-purpose flour
1/2 cup Dutch Farms unsalted butter, cold and cubed
1 cup chopped pecans (optional)
VANILLA GLAZE:
1 cup confectioners' sugar
4 teaspoons heavy cream
1 teaspoon vanilla extract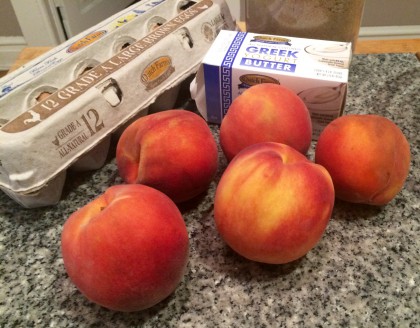 DIRECTIONS:
Preheat the oven to 300°F (149°C). Line the bottom and sides of an 9X13 inch baking pan with aluminum foil or parchment paper, leaving enough overhang on all sides. Set aside.
Make the crust: Stir the melted butter, granulated sugar, vanilla, and salt together in a medium bowl. Add the flour and stir until everything is combined. Press the mixture evenly into the prepared baking pan. Bake for 15 minutes.
Remove the crust from the oven, and turn the oven up to 350°F
Make the streusel: Whisk the oats, brown sugar, cinnamon, pecans (optional), and flour together in a medium bowl. Cut in the chilled butter with a pastry blender or two forks (or even with your hands) until the mixture resembles coarse crumbs.
Make the filling: Whisk the egg and sugar together until smooth and creamy. Add the flour and salt. Whisk until combined. Fold in the peaches.
Pour filling over the shortbread crust and sprinkle with streusel topping, evenly covering the entire pan.
Bake for 30-35 minutes or until golden brown on top.
Allow to cool in the pan on a wire rack for 30 minutes. Transfer to the refrigerator and allow to chill for 2 hours before cutting into squares.
Make the vanilla glaze: Using a fork or spoon, whisk/stir the confectioners' sugar, cream, and vanilla extract together until smooth. Drizzle over each square.  Store bars tightly covered in the refrigerator.